Group Events & Adventures
Whether you're a meeting planner, convention coordinator, HR manager or the family member in charge of fun, we can help! We've been in the adventure business since 1992 and along the way we've helped create thousands of awesome memories. Thanks to our partnerships with adventure outfitters all over Arizona, we can arrange amazing adventure activities throughout the state for groups of any size.
Whether you need organized adventure options for your group, a team building program for your organization, or a single source for activity reservations for your convention participants, we can help.
Adventure Advisors
Some planners and organizers don't need, or can't afford, the assistance of a full service DMC. That's where we come in! We're your one-stop resource for off-site adventure activities. Why call each tour provider separately? With 360 Adventures, you work with a dedicated adventure advisor and we'll take care of the logistics. And since we only work with premium, insured & permitted partners, your guests are sure to enjoy the results.
Not only can we handle activity logistics for homogenous groups like corporate/company meetings, we can help bookend convention or conference attendees' Arizona visit with adventure. Click HERE for more details.
Team Building Programs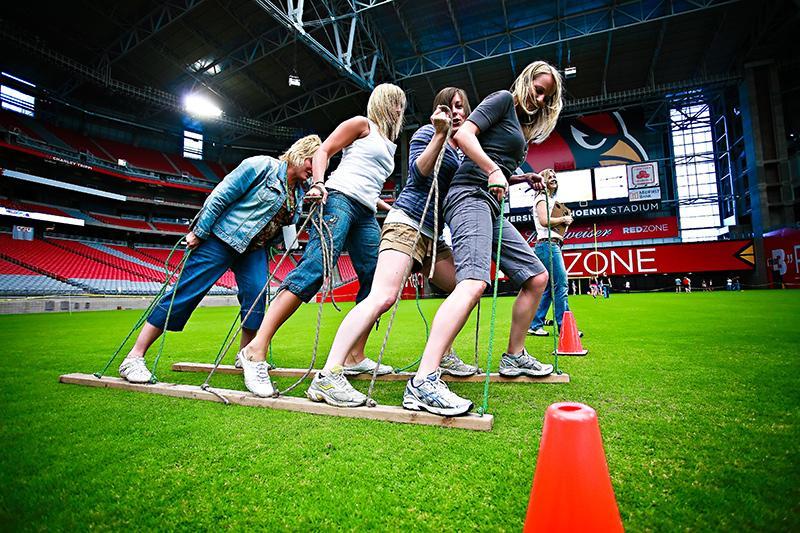 When we say "team building" we mean awesome, challenging, fun and feels like a party! The best part of teambuilding is that it's 100% deductible. From a simple salsa or Iron Chef challenge to scavenger hunts and bar games, orienteering courses to football field games, we've got a wide range of options to fit your group. Plus, we're the ONLY TEAMBUILDING COMPANY allowed to play on Cardinals Field at University of Phoenix Stadium!
Click HERE for more details.


Scavenger Hunts
Scavenger Hunts are a great way to work on teambuilding skills, communication, strategizing and time management....or just have a little fun as a group! We offer two options - Fully Facilitated, or Self-Run. When you choose the Fully Facilitated option we do all of the work. Our team members will operate each challenge station so your team can focus on the fun. The Self-Run option provides you with all of the equipment and you or your co-workers can run the stations. Click HERE for more details.

Activity Reservations
Most convention attendees try to add some fun to their visit – but their fun shouldn't distract you from your job. We can set aside special tours for your group and manage the reservations for you. Simply direct your participants to our website and give them a special group code we'll create just for you. This way you'll be free to deal with the 1,000 other things you're responsible for. Click HERE for more details.

Call 480-722-0360 or fill out the form below to reserve your next group adventure with 360 Adventures!