How to get to Havasupai & Havasu Falls
July 19th, 2017 9:42am
So, you want to go to Havasupai and see the falls? You're not alone. In fact, there are, literally, thousands of people that feel like you do. Havasupai is one of those magical places that deserves to be on your bucket list.
The challenge is that Havasupai isn't as accessible as one might hope. Not only is it a long, steep and dry hike, but the permit system is a pain in the pooper to deal with. But once you're down there, relaxing in the blue-green waters, it'll all seem worth it.
So, without further ado, here's everything you need to know about how to "do" Havasupai.
Before you even begin this odyssey you should know that it's about a 5-hour drive from Phoenix and Vegas and about 3-hours from Flagstaff. You'll want to plan a day of travel just to get to the trailhead. Many people camp at the trailhead so you won't be alone.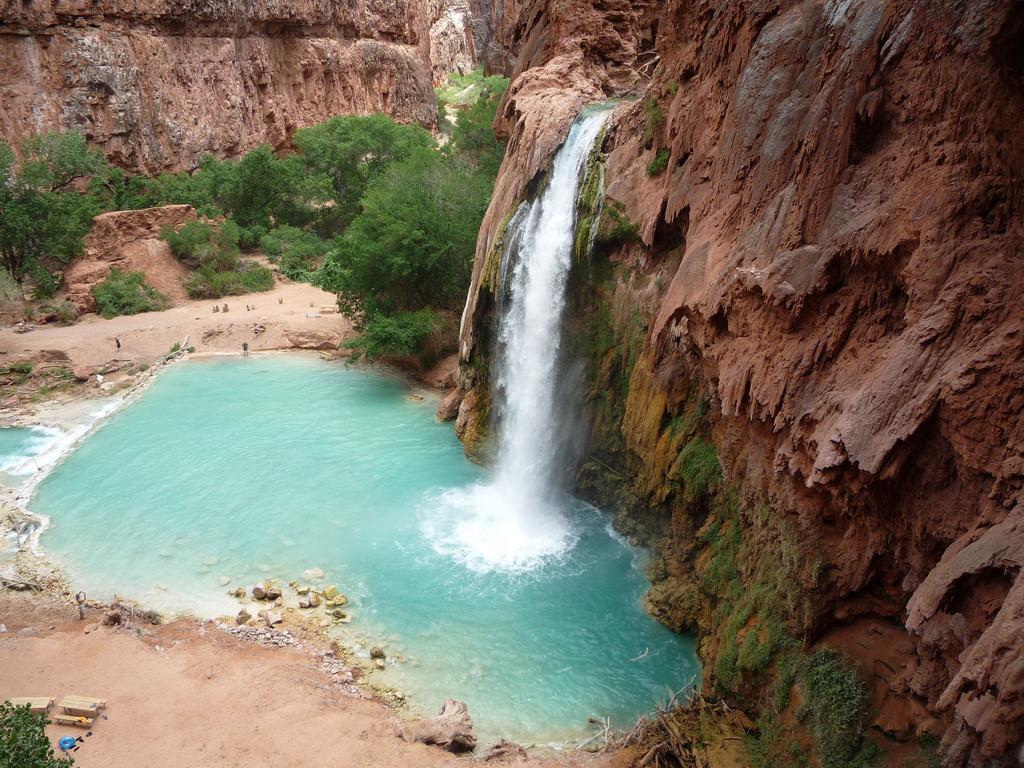 So how long is the hike to havasu falls?
You'll need to be able to hike about 10 miles, one way, then another 10 miles the other way. Not only that, but this is a classic Grand Canyon-type hike...straight down, and straight up. Yes, it's steep, but it's long! You may have heard that there is a helicopter that'll fly you out. Yes, that's true...but it's very unreliable. The helicopter's first priority is to shuttle tribal members in/out of the canyon; their second priority is to shuttle supplies and mail. If, at any time, a tribal member wants a ride, they can "get to the chopper now". In short, don't be surprised when you get bumped, and during peak season, be prepared to get bumped until the following day. I'm not kidding.
The bottom line is that you're going to have to hike in AND out.
The next thing you should be ready for is that the permit system is about as efficient as a one-legged man in an ass-kicking contest. Be prepared to spend a disproportionate amount of time just trying to reach them, let alone getting the dates you were hoping for. Oh, typing about dates - be flexible...very flexible. DO NOT make any other plans regarding this trip until you have your permits. Seriously.
I'll post the phone number to the permit office at the bottom of this blog. They used to have an online system, but due to the demand, it crashed and stayed crashed. So your only option is via phone.
If you're thinking of doing some kind of epic day-hike in and out forget it. First, because it's not permitted. The tribe doesn't allow for day-hiking. Second, is because it's a 20-mile round-trip hike with a shit-ton of elevation loss/gain. Speaking of strenuous...we suggest that you plan for 2+ days down in the canyon. The hike in is going to take it's toll; you're going to want time to relax instead of having to hike out the next day. Also, there is a lot to see down there. Don't rush it.
Next is the questions of where you're going to stay and how to make a reservation There is a campground and a lodge in the village of Supai.
The campground is located within a 5-minute walk of the beautiful 100-foot Havasu Falls, about 2 miles downhill from the Village of Supai. In between the Village and the campground there are two other waterfalls. The campground is about ¾ of a mile long and spots are not defined and are available on a first come, first served basis. There are many wonderful spots to choose from throughout the campground. Lastly, there are no campfires allowed in the campground.
Before I discuss the lodge, here are a few tips on how to pick the best camp spot.
The most coveted spots are "river-front". There is a creek that runs the length of the campground. Be aware that not all spots are equal - some are susceptible to flooding, especially during the Monsoon (July-September).
Shade something to consider. In the hotter months a shady spot is desired however, when it's cold, maybe you'll want a space with some more sun exposure. You pick. Just be aware that the big flood a few years back killed some of the trees...don't camp under a dead one. It may fall and hurt or kill you.
Speaking of things that fall, don't camp next to the cliffs. Rock fall is a very real danger in the canyon, especially when it rains. If it does rain, the water cascading down will carry rocks and who-knows-what-else.
Drinking water is only available in one spot, Fern Spring and it is located in the upper third of the campground. As you arrive into camp note where the spring is and keep that in mind. Some people don't mind hauling water, others do. You choose.
A bear poops in the woods but in Havasupai, you don't. There are composting toilets located throughout the campground. Use them. Seriously - don't be a crap-head (see what I did there?).
The lodge is very basic There is no kitchen or food provided at the lodge. You'll need to come prepared to provide all your own meals. You can get food from the Supai Café (burger, fries, hot dogs, fry bread, tacos, sodas, etc) or from the Supai grocery store, located in the village. Hours can occasionally be unpredictable at both the cafe and the store. Due to the remote location of the village, the prices are quite expensive.
So, by now you're probably thinking that the logistics are a bit much to bear. In truth I think it is, but once you DO finally score your permits then the place is worth it. It really is. There is an easier way though. You can let us do all of the legwork and just enjoy the trip. We can even arrange for a pack horse to carry your gear. Heck, you won't even have to worry about the food...we'll even cook the meals and clean the dishes.
Prefer to rough it a bit more? Maybe a full-blown backpacking trip suits you.
Regardless, here's what you're going to see...
HAVASU FALLS
Havasu Falls is the most well known of the Havasupai waterfalls. It is 100 feet tall and cascades into a crystal blue-green pool just a 5-minute walk from the Havasupai Campground and about 2 miles from the Village of Supai. Picnic benches dot the dirt-and-rock shore while cottonwood trees shade several smaller waterfalls below the picturesque landmark. Havasu Falls used to be called Bridal Veil Falls in the late 19th century when its flow stretched horizontally across the entire cliff of travertine you see today. Havasu Falls is the visitor's' favorite and most crowded due to its close proximity to the campgrounds and ample space for lounging, sunbathing and swimming.
MOONEY FALLS
Mooney Falls is the tallest of Havasupai's waterfalls at just under 200 feet. Situated about one mile from Havasu Falls, it marks the end of the Havasupai Campground. The waterfall was named for D.W. "James" Mooney who, in 1882, plummeted to his death over the side of the falls. A former sailor who came to the canyon as part of Alphonso Humphreys' mining party in 1880, Mooney attempted to descend the falls to discover the riches the party was sure laid within the then-little-traveled lower canyon. At that time this section of the canyon was mostly inaccessible. It wasn't until Alphonso's brother, Mat Humphreys, returned in 1883 that the current descent route, involving two tunnels through the travertine and 100 feet of ladder-like rock scrambling, was blasted into the rock surrounding the falls. Descending Mooney is a tourist favorite today, requiring agile adventurers to climb down the same rock face chipped out by Humphreys. Since then the route has been improved by the introduction of pieces of rebar and the occasional chain handrail. Mooney Falls is not safe to swim behind or under as it has a dangerous re-circulating current.
BEAVER FALLS
Beaver Falls is a series of four to five cascading waterfalls, occurring at the confluence of Havasu Canyon and the dry Beaver Canyon, about 3 miles down canyon from the Mooney Falls. It's a day-trip destination for many Colorado River whitewater rafting trips hiking up from the eddy at River Mile 157. To get to Beaver Falls from the Havasupai Campground, you must do the Mooney Falls descent, then hike 3 more miles down canyon, winding through grapevine fields, avoiding desert bighorn sheep, and crossing Havasu Creek several times. Beaver Falls is known for its gorgeous cascades and large pools, perfect for wading and swimming.
During the spring and fall seasons be sure to arrive early in the day if you want to visit while the sun is still shining on the water and surrounding banks.
NEW WATERFALLS – New Navajo and Rock Falls
When talking about the "new falls" in Havasu Canyon, people are talking about the waterfalls created during the August 2008 flood. Navajo Falls, now called Old Navajo, was made dry when the water course diverted to the southeast. Now visitors can see 30-foot Rock Falls and New Navajo Falls. These falls are located near each other about 1 mile down from the Village of Supai, or 1 mile up from the Havasupai Campground. Geologically, it is thought that both falls were originally present, then were covered during some large flooding incidents. Their recent unveiling and the drying up of Old Navajo is simply the creek returning to its previous course. Rock Falls is a favorite stop, especially for families, as people can easily swim around the falls and safely climb onto a ledge behind the water flow to a low ledge. Exploring New Navajo and Rock Falls' various cascades and swimming holes will make you realize you are in Grand Canyon paradise.
OVERVIEW
You must plan your trip well in advance.
Visiting Havasu Falls requires a strenuous hike, both ways.
You must get a permit to visit Havasu Falls.
You must stay overnight at Havasu Falls.
Do your research and know what to expect.
By now you probably don't know if you should be dismayed with the challenges or not. Yea, it's a beautiful place but if it's so hard to get to, what's the point? Well, don't fret little cowboy or cowgirl. We can make all of your pain go away.
Instead of doing all of this yourself, your other option is to hire us to handle all of the pain in the butt logistics. Seriously, when you factor in all of the effort you'll have to put in just to get down there and enjoy yourself the cost is basically a wash. True, you're hiring guides, but these same guides will be the ones cooking/cleaning for you. It's a WAY better way to go, in our professional experience.
BASIC DETAILS
RESERVATIONS
To make camping reservations in Havasupai, you can must call the Havasupai Tourism Office at (928) 448-2121. Be warned, Havasupai camping permits often sell out for the entire season within the first 2 or 3 months of the year.
2017 Costs*:
Camping permit – $25 per person, per night
Environmental fee – $10 per person
Entrance fee – $50 per person as well
This means that for the first night the cost for one person is $85, and $25 for each subsequent night camping.
*Note, all fees are taxable at 10%.
Havasupai Reservation Policies – 2017
All payment is due at the time of booking.
One credit card is allowed per group, ie. if you get through the phone lines and want to reserve spots for your 10 friends you must pay for all 10 on one card.
Payments to the tribe are non-refundable.
Permit reservations are non-transferable.
HAVASUPAI LODGE RESERVATIONS:
To make reservations at the lodge, the only hotel near Havasu Falls, call (928) 448-2111. The Havasupai Lodge is in the village of Supai, Arizona which is about a 2 mile hike away from Havasu Falls. The Lodge offers basic accommodations.
2017 Costs:
Up to 4 people/room – $145/night
Deposit – $40/room/night
Entrance fee- $50/person
*Again, all fees are taxable at 10%.