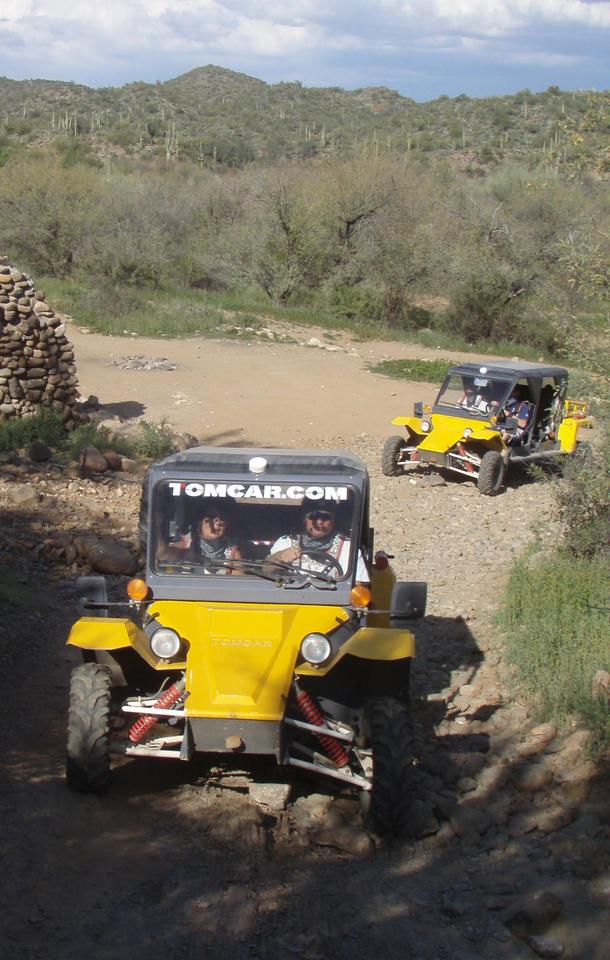 Tomcar Adventures
Climb into a Tomcar and get ready for adventure! These fast, safe, versatile machines were originally designed for military purposes. Featuring four-point safety belts, high ground clearance and 4-wheel independent suspension, there's practically nowhere you can't go!
After an introductory breifing, join your guide and explore the beautiful Sonoran Desert. Begin with a relatively mild road to get familiar with your new toy, then test your skills on a variety of terrain including exciting climbs and daring descents - all easily and safely manueuvered in a Tomcar.
Duration: Approx. 3-3.5 hours
Departs: Morning or afternoon departures available.
Includes: Bottled water
Cost: $145/adult (min 2); $87/children ages 4-12.
Season: This tour is available year round; start times are seasonally modified.
Skill level: Must be 18 years old to drive a Tomcar.
Notes: Suncreen, hats and closed-toe shoes are recommended. Don't forget your camera!
Cancellation Policy: Private tours have a 48-hour cancelation policy; group tours have a 72-hour cancelation policy. If your plans change for any reason, please be sure to call at least 48 or 72 hours prior to your tour start time to avoid charges.