Phoenix Helicopter Tours
Take a helicopter flight and experience more of scenic Arizona than you may ever have imagined - and never leave a single mark on the fragile desert. As you soar over pictorial and historic areas of the most beautiful desert in the world, our pilots will intrigue you with legendary tales of Arizona's past.
With breath-taking aerial vistas, sometimes stretching over a hundred miles, we take you near ghost towns, Indian ruins, 1800's-era cavalry forts, outlaw hideouts and Indian and conquistador battlegrounds. Enjoy an "eagles eye" view of beautiful desert rivers, lakes, and cliffs.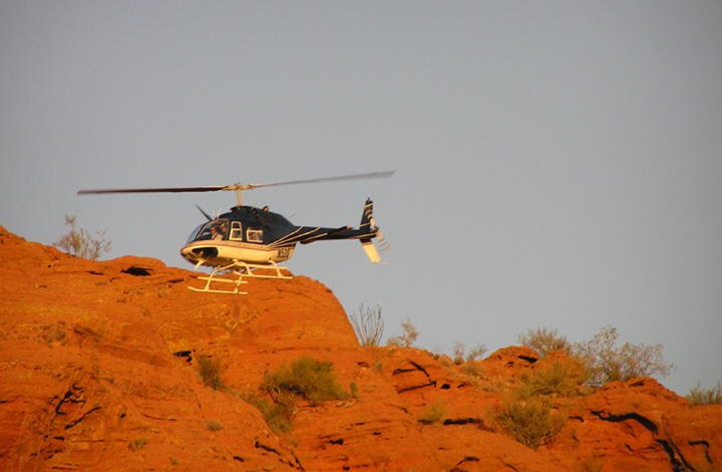 Duration:
Flight times range from 15-40 minutes; custom charters are also available.
Departs: Scottsdale Airpark
Cost:
Scottsdale & Paradise Valley (15-18 min): $155/adult ; $95/children ages 2-11 - Fly over Paradise Valley's impressive homes and green golf courses, then soar around Squaw Peak Mountain and famous Camelback Mountain, one of the most iconic locations in Phoenix.
Fountain Hills (30 min): $260/adult; $155/children ages 2-11 - See everything in the Paradise Valley tour before flying over the McDowell Mountains to exclusive Fountain Hills, home to one of the world's tallest man-made fountains, shooting water hundreds of feet in the air.
Desert Lakes (approx. 40 min): $365/adult; $215/children ages 2-11 - See the majestic Superstition Mountains from the air! This flight takes you along the western edge of the Superstitions, flying up Salt River Canyon. See Red Mountain, the Superstition Mountains, Weavers Needle, Salt River Canyon, Saguaro Lake, Canyon Lake, Four Peaks Mountain and the McDowell Mountains.
Night Flight (30 min): $525/flight - Come fly with us on a unique tour after the sun sinks below the horizon and we take to the sky to see the impressive luminance of the Phoenix city lights. This is a truly romantic flight for two or a great group event to be shared with family or friends.
Sunrise/Sunset (30 min): $635/flight - Arizona is legendary for the stunning colors of the sun as it rises and sets over the desert sky. Now you can capture the "magic hour" with a unique view from above. Whether you are looking for a romantic experience or a great photographic opportunity this is the flight for you. Departure times vary based on time of year.
Custom Charters (60+ min): $1300--$2500/hr - We offer private charter rates if you would like to utilize the helicopter by the hour. The rate is not affected by the number of people, so fill up the flight! Create your own private, personalized tour, or ask one of our seasoned pilots for suggestions on where to go. We also provide support for utility work, aerial surveys, photo/film flights and executive VIP transportation. Let us know how we can assist you.
Tax, airport usage fee & fuel surcharge included.
*Sizzling Summer Special prices are good for flights booked and flown by August 31, 2015
Season: Tours are available year round; weather dependent
Skill level: N/A
Notes: RESERVATIONS REQUIRED. Two person minimum; tours are available for up to 3 passengers per flight. Weight limits may apply. Hat & sunscreen recommended. Don't forget your camera!
Cancellation Policy: Private tours have a 48-hour cancelation policy; group tours have a 72-hour cancelation policy. If your plans change for any reason, please be sure to call at least 48 or 72 hours prior to your tour start time to avoid charges.