Grand Canyon Hiking Tour
Picnic in the Canyon
The Grand Canyon is the crown jewel of the Seven Natural Wonders of the World. Don't just look at it - HIKE IT! Fewer than two percent of visitors to this geological marvel ever set foot below the rim. Our hiking tours depart Phoenix & Scottsdale early in the morning and the drive to the canyon is amazing. We go from our low desert, through the high desert and on into the forests of northern Arizona. This narrated scenic drive isn't something you want to miss.
Once at the canyon we'll gear up and head down. Your Grand Canyon hiking tour guide will lead you to an amazing lunch spot for a picnic you'll never forget!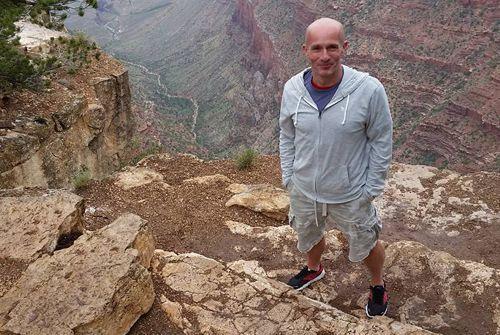 Duration: Approx. 12 hours
Departs: Phoenix/Scottsdale
Includes: Permits & entry fees, skilled guide(s), transportation, lunch, water, snacks & day packs. Trekking poles available upon request. Guides carry First Aid kits & cell phones.
Cost: $205/person Summer Special! $185/person*, minimum 4.
Season: Grand Canyon hiking tours are available year round, weather dependent.
Skill level: Beginner to Advanced
Notes: RESERVATIONS REQUIRED. All Grand Canyon tours are group tours; minimum 4 guests. Private hiking tours are available for an additional fee. Close-toe shoes are required and a hat & sunscreen are recommended. Don't forget your camera!
*Tour must be booked by August 31, 2015 and must occur by December 31, 2015
Cancellation Policy: Private Grand Canyon hiking tours have a 48-hour cancelation policy; group tours have a 72-hour cancelation policy. If your plans change for any reason, please be sure to call at least 48 or 72 hours prior to your tour start time to avoid charges.